Users can watch an entire video by clicking Play Full Video. Viewers can also navigate to specific points in the video using the predefined segments, the searchable interactive transcripts that display beneath the player, or the player's preview scrubber.
Full Video
The full video playback can be triggered by clicking on the Play Full Video link listed on the top of the segment list on any video page. You can use the scrubber tool to preview and move to parts of the full video.
Video Segments
To access specific segments, click the "Video Segments" link, found to the right of the player. A list of segments will appear, allowing the user to skip to any segment and push play. The segment currently being played will be highlighted in the list.
Interactive Transcripts
The interactive transcripts indicate the current point in the transcript by highlighting the portion of the text in blue, and will progress in real time. To jump to a different section of the video, simply click on a word within the transcript and the video will jump to that point.
It is also possible to search for specific terms within the transcript using the "Search Video" search box found beneath the player, at the top of transcript window. Enter a keyword and any results will be indicated by white notches in the bar above the search box. Hover over the white notches for a preview of the result in context. Click on the white notches to be taken to that point in the transcript, and the video will advance as well.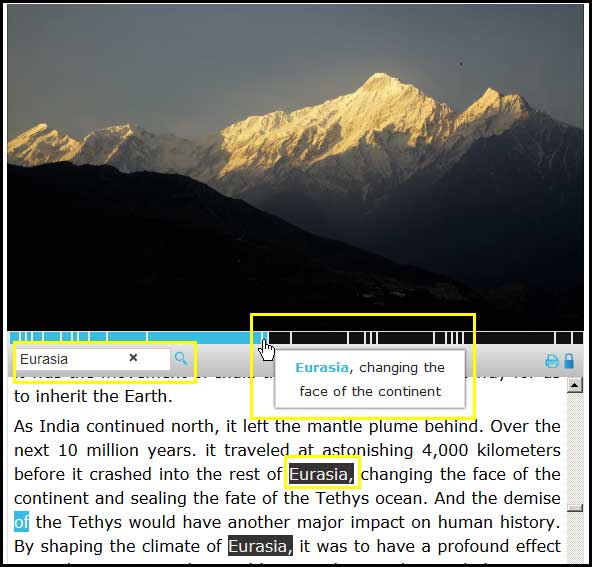 Additional transcript options, located above the transcript window, allow the user to print the transcript, and turn the transcript auto-scroll on or off.
Preview Scrubber
Users can also navigate using the preview scrubber. Hovering over the preview scrubber, located directly beneath the video, displays a series of preview stills, allowing users to locate specific points in a video. Clicking on the scrubber will cause the video to jump directly to that point.
Player Controls
Player controls are located beneath the player window.
Play/Pause
Volume
Closed-captioning
Full-screen